Glass Sines / Live / London UK.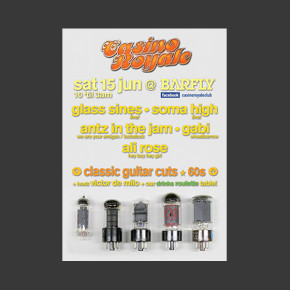 Casino Royale @ The Barfly, Camden – Saturday 15th June
We're very pleased to be returning to The Barfly Camden this month and can't wait to follow up from where we left off back in March!  With support from Soma High (Live) and the Casino Royale DJ's this is going to be a quality night – get involved people.
"Clubland Royalty" said London's Time Out magazine about Casino Royale, a fixture of Camden clubbing for over 10 years.
UPSTAIRS: DJs playing classic guitar cuts from then 'til now, joining the musical dots between the Stones, Smiths & Strokes, etc.
Glass Sines (live @ 11:45)
– This Brighton-based band take an electronic/synth base and blend it with acoustic and electric guitar lines, vocals and classical violin. Let them take you from the lighter, melodic side right through to an ending that's kicking with infectious energy. With support from Radio 1 and 6Music, these guys are a must-see!
Soma High (live @ 11)
– After touring with Does it Offend You Yeah?, The Bluetones and Howling Bells, the very impressive SomaHigh hit the Casino Royale stage.
Antz in the Jam (Lockstock Festival / We Are Your Amigos)
– Ant's the man behind the Lockstock festival, A champion of breaking new bands and spinning big tracks. Playing various sets on the festival & club circuit this year, he's got a good ear for the tunes and knows how to keep people moving.
DOWNSTAIRS: It's a riot of 60s garage, northern soul, psychedelia
from:
Ali Rose (Hey Boy Hey Girl)
– Ali has been DJing in London and New York for over 8 years. She loves playing anything from 50s through to 00s, indie, rock, pop, guilty pleasures, motown, soul & everything inbetween. She's been invited to DJ at parties for Katy Perry, War Child and the Q Magazine Awards as well as guesting at various clubs.
Gabi (Wheelbarrow)
– Camden scene starlet Gabi Garbutt spins tunes in many of the area's finest salons as well as treading the boards with her band The Sticklers. With a refreshing take on the 60s DJ set, she's got some great tunes for the Casino Royale dancefloor.
Plus, flamboyant host Victor de Milo hands out his own bank notes so that everyone can have a free go on our "Monte Carlo-style Roulette table", with the chance to win drinks!