Glass Sines / Live / London UK.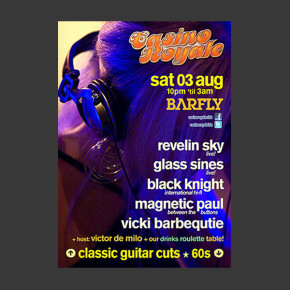 Casino Royale @ The Barfly, Camden – Saturday 3rd August
We're very pleased to be returning to The Barfly in Camden next month with another Headline show for the Casino Royale guys.  We're looking forward to playing this, with a few new tracks taking shape too this is not to be missed!  With support upstairs from Revelin Sky (live) and the Casino Royale resident Black Knight (International Hi-Fi), this is going to be one quality night – get involved people.
"Clubland Royalty" said London's Time Out magazine about Casino Royale, a fixture of Camden clubbing for over 10 years.
UPSTAIRS: DJs playing classic guitar cuts from then 'til now, joining the musical dots between the Stones, Smiths, Strokes, etc.
Glass Sines (live @ 11:45)
– This Brighton-based band take an electronic/synth base and blend it with acoustic and electric guitar lines, vocals and classical violin. Let them take you from the lighter, melodic side right through to an ending that's kicking with infectious energy. With support from Radio 1 and 6Music, these guys are a must-see!
Revelin Sky (live @ 11pm)
– Having won a battle of the bands competition at Proud Camden in 2012, wowing crowds with their energetic shows. Strong riffs, melodies and choruses are prominent in their tunes.
Black Knight (International Hi-Fi)
– Resident DJ upstairs at CR for all of its 14 years. A veteran DJ of club nights at both Barfly and The Garage, he was one of the original DJs at the Astoria's notorious Club X and dispensed a wildly eclectic musical cocktail at Cigarettes and Alcohol at the celebrated Wag Club in Soho.
DOWNSTAIRS: It's a riot of 60s garage, northern soul, psychedelia from:
Vicki Barbequtie
– she's the mover and shaker behind Barbequtie, who've hosted 60s parties from the Boogaloo to the Moustache Bar to the Camden Head… Time Out said "It's cute like Barbarella but it rocks like the Rolling Stones" and Mojophenia enthused "It's official, Barbequtie are presenting some seriously popular nights in London…"
Magnetic Paul (96 Tears)
– After years DJing 60s garage/psych/soul night Funhouse in Glasgow, with Radio 1's Vic Galloway, Paul travelled South and now plays at Barfly's Between The Buttons night, 96 Tears at Stoke Newington's Jackalope and at The Camden Head. He specialises in rock'n'roll, psych, garage, and soul from the 1950s-70s and also plays bass for The Magnetic Mind.
Plus, flamboyant host Victor de Milo hands out his own bank notes so that everyone can have a free go on our "Monte Carlo-style Roulette table", with the chance to win drinks!